Strategy
By Vallen Han, Asia Marketing Director, New Zealand Post

China is an emerging market for New Zealand. The rapid growth of the middle class consumer base and their desire for quality products from overseas represents an enormous business opportunity for many New Zealand companies. While the Free Trade Agreement, and "Brand New Zealand" all have the potential to help New Zealand businesses to succeed, the big differences between the two countries in terms of markets, consumers, regulatory environments and language can make it hard for a New Zealand company to decide where to start.
eTailing as a potential channel
In China, etailing is a powerhouse industry. It is the world's second largest market after the USA, with $US210 billion revenue. Since 2003, the market has posted a compound annual growth rate of more than 120 per cent. China has an estimated 193 million online shoppers, more than any other country. By 2015, these consumers will be spending $US1,000 per year online — the same amount that the USA's 170 million online shoppers currently spend annually. China's middle class is expected to balloon from 200 million to 800 million people over the next 20 years1.
To tap into the online space, there are a few options: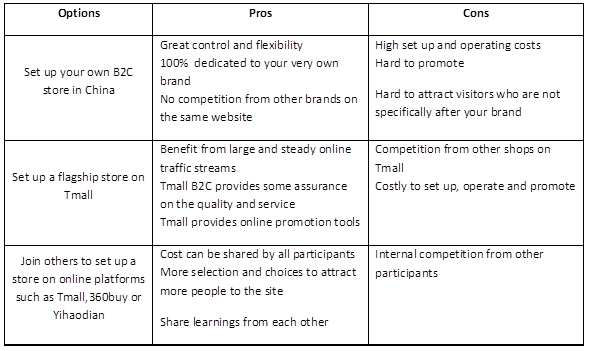 New Zealand Post is committed to helping New Zealand companies grow their business worldwide through its parcels & logistics, financial services and business partnerships. Currently New Zealand Post is piloting a direct channel to enable New Zealand businesses to sell directly from New Zealand to Chinese consumers with our postal partners. Concurrently we are also looking to build a comprehensive offer for New Zealand companies to transact with consumers and businesses in the China market.
Challenges ahead
Understanding the regulatory environment and the standards that apply to your product is essential before too much investment is made into product development for the China market. This is particularly the case for food and health products. Research the regulatory requirements your product must meet to enable it to be sold in China. Speak to local agents. Contact New Zealand government export agencies to seek advice. Don't assume that just because your product has been cleared in one region of China that the same rules apply in another.
Brand awareness and product awareness is key
In China, brand is a currency. While consumers perceive New Zealand as a beautiful country, they have limited exposure to New Zealand products and brands. When it comes to making purchases, due to a highly risk averse culture, Chinese consumers tend to stick to brands they have some prior interaction with.
New Zealand companies need to be proactive in selling their brand stories and understand that it takes a series of promotions across multiple channels and platforms, not just one, to establish their brands in China. Before launching to the market, a unique value proposition needs to be developed to appeal to Chinese consumers. The best way to develop this is to get some advice from a marketing consultant who is either originally from China or has extensive experience with China. Brand value needs to be easy to articulate. If a company somehow struggles to articulate their brand value, the customer will struggle even more so when they evaluate whether they should buy that brand vs. another brand.
With a small marketing budget, New Zealand businesses can tap into low cost marketing methods such as social media, search engine and sec- killing (in Chinese "Miaosha"), trial samples and lucky draws to create ongoing exposure.
Being far away from New Zealand, Chinese consumers are not exposed to marketing activities in New Zealand. A common mistake is to assume local brand awareness can be transferred automatically to a new overseas market. Showing consumers images of retail shops selling the products, awards and/or certificates won locally, and testimonials from New Zealand customers, especially celebrity clients, will help boost brand image in a new market.
Tips about online marketing in China
When New Zealand companies market their products in China, a key question to answer is which end of the market is the target. Normally New Zealand companies like to reach the high end or even the luxury end of market, but in reality find themselves stuck in the middle of nowhere.
In China, the high end consumer market is dominated by the huge US and European brands. Consumers rightly or wrongly believe that big brands are the best. New Zealand companies are so new and so small that they don't have the money to invest like a high profile brand in the mainstream market, to back up the premium price they tag the products with. Therefore they lose out to the local cut throat market competition.
If a New Zealand company has chosen to target high end consumers and lists its products above the average market price for that category, it needs to provide a VIP experience for its customers. This is not different in the online space. When an order comes in the New Zealand company should always be looking at immediate dispatch and avoid delays, packaging the product beautifully, providing a bit of extra excitement or a nice surprise, such as a free gift or a hand written card. If something goes wrong operationally (e.g. a wrong product is sent ), always send an apology card with a small gift when replacing with the correct product.
Another tip is to keep a database and when customers need a repeat order, send a polite reminder with a discount voucher for them and their friends, so they feel valued and will be happy to share their positive experience with others. By doing so, the online transitional relationship can be transformed to a more loyal bond, while also encouraging positive word of mouth.
In summary, the China market is a real opportunity for the New Zealand economy. It is important that New Zealand companies acknowledge the cultural and language differences, do thorough research into the regulatory rules in China, understand the time and distance factor, and embrace the chance to learn the China market through testing and learning. Starting to explore a new market via an etailing channel provides you with the unique chance to conduct market tests with real consumers, quickly and easily – with the ability to turn that etailing channel into a main sale pipeline later.
New Zealand Post provides a wide range of cost effective logistic solutions including 3PL, warehousing, international freight and international air and express parcel services for New Zealand companies to expand into overseas markets. We are also more than happy to share our learnings, experiences and our business connections in overseas markets. For more information, please email vallen.han@nzpost.co.nz
Please contact luke.qin@nzcta.co.nz if you would like to contribute to our newsletters.
1 http://www.mckinsey.com/insights/asia-pacific/china_e-tailing, http://mashable.com/2012/05/20/ecommerce-china/
Aug 19, 2013