Profile
The China-Australia trade relationship is well-known for the flow of natural resources from Australia to China. Yet in the other direction, China has in the last decade become the leading supplier to Australia of machinery and electronic equipment. The two bubble charts below in Figure 1 illustrates the progress that China has made from 2000 to 2009 in becoming Australia's leading supplier of machinery and equipment. In 2010, machinery and electronic equipment accounted for 39% of the total (see Figure 2), and China went from supplying 4% of Australia's imports of these items in 2000 to 21% in 2010 (see Figure 1, click to enlarge).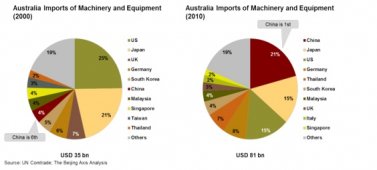 In 2010 Sino-Australian total trade of goods amounted to USD 87.57 billion. China's total exports of goods to Australia in 2010 was worth USD 35.26 billion, growing with a CAGR of around 20% between 2001 and 2010 (see Figure 2, click to enlarge). Resources is clearly only one side of China-Australia commerce. The other side is the machinery and electronic equipment that Australia is sourcing from China, which respectively constitute 28% and 21% of China's exports to Australia.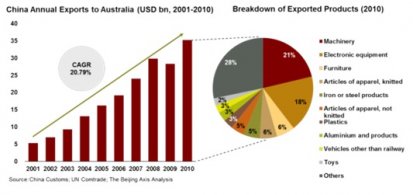 Attention New Zealand machinery manufacturers
For a detailed (and insightful) overview of opportunities in China's Machinery Industry read the article "Engaging China's Machinery Industry" in the latest issue of The China Analyst.
This article has been kindly supplied by China Sourcing Blog.
Aug 15, 2011