China General Interest
In this month's issue of China Now, JLJ Group presents an authoritative overview of the education and training market in China.

The combination of the world economic crisis and China's unprecedented economic growth has created unique opportunities in China's education and training industry. As competition in the labor market intensifies, more Chinese are seeking ways to upgrade their knowledge and skill sets to become more valuable in the labor market. Additionally, large domestic corporations are turning to training as a key component of their retention strategy. These factors have created immense demand in the industry, particularly in the areas of language, IT and soft skills training.
Market overview
The education and training market in China grew at about 12% in 2008 and is expected to reach US $200 billion by 20101. Currently, there are more than 100,000 registered training companies, including key players such as English First, Wallstreet English, NIIT and Clark Morgan; in addition to the registered training companies, several thousand unregistered companies exist2. Nonetheless, the market remains underdeveloped in many cities, where small domestic firms dominate without any clear market leader. Hence, foreign direct investment remains strong, with US $130 million invested in the industry in October 2008 alone3.
Growth in the education and training market in China is dominated by both the soft skills and IT education and training sectors with revenues growing at more than 20% annually4. This is in part driven by 6 million fresh college graduates entering the workforce yearly. However, the market for traditional English language training is nearly saturated; although valued at US $2.2 billion in 2008 there are more than 50,000 companies in this sector. In contrast, the children's education sector is expected to grow rapidly and exceed US $12 billion by 2010 as parents find it increasingly important to supplement their children's compulsory education5.
Opportunities
Practical skills training, especially oral English, managerial and other business-related soft skills, continue to be popular among the Chinese. This is driven partly by strong demand from companies seeking qualified and skilled managers, which are still scarce commodities in China's labor market. Demand for practical skills training is also being driven by individuals seeking ways to improve their competitive advantage in the labor market. Similarly, parents are investing more in their children's education and training as it is seen as a way to secure a better future for them.
Nonetheless, opportunities are useless without understanding the needs and preferences of the customers. In general, Chinese customers for education and training services tend to emphasize brand and reputation as their first criteria for selection6. Foreign brands are generally associated with quality and international teaching methods, which are highly sought after; an international brand and strong company reputation are especially important for the children's education sector, where many parents are eager to help their children obtain an edge by providing them with an international perspective.
Additionally, it is important to assure customers that a company's trainers are knowledgeable and well-qualified. This is increasingly important due to a prevalence of unqualified trainers among small companies. As a result, Chinese customers have become wary of unknown companies and tend to have a stronger preference for well-established players.
It is also increasingly popular for institutions to provide tailored courses customized towards specific needs. Customized courses are preferred over general courses as they help students overcome specific problems and gain skill sets not commonly found elsewhere.
Below is a summary table of key success factors in the education and training industry in China:
| | |
| --- | --- |
| Factor | Reason |
| Reputation | A well-reputed service provider gives its customer assurance of its quality and engages qualified trainers. |
| Foreignness | Foreign brands are generally associated with quality. In particular, international teaching methods are deemed to provide students with an international perspective. |
| Customisation | Tailored courses are deemed better in helping students overcome particular problems or gain advantages over their peers. |
Opportunities remain in the education and training industry in China if a training institution is able to meet the expectations of the Chinese customer. This is especially true in Tier-2 cities, where competition is less intense and demand is increasing.
The Emerging Tier-2 Cities
Unlike the saturated markets found in Tier-1 cities7, where intense competition already exists, opportunities for growth are still found in Tier-2 cities8. The education and training market in Tier-2 cities are still relatively new and fragmented, generally dominated by small domestic service providers with no apparent market leaders in many of the sectors. Consequently, first mover advantages can still be enjoyed if the services provided are able to meet the needs of the Chinese customers.
In particular, the English language training sector in Tier-2 cities has potential for foreign investment. This is primarily due to a lack of good English language speakers in Tier-2 cities, which has led companies to offer premium salaries to hire such candidates; the financial rewards of language training can be significant in Tier-2 cities, driving demand for related courses by reputable service providers.
In addition, sector based development encouraged by local governments to develop local economies, creates niche markets within the education and training services industry, e.g. IT training. For example, the IT industry in Nanjing is rapidly growing due to the increasing popularity of Business Process Outsourcing (BPO) and is expected to reach a market value of US $8 billion by 20109;10,000 new workers were employed in Nanjing's BPO industry in the first quarter of 200910.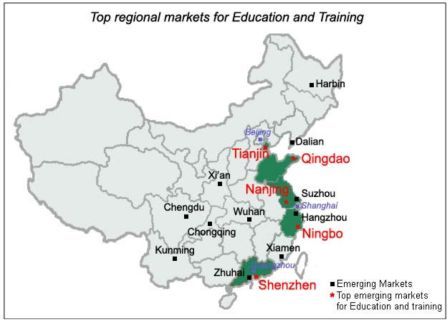 Challenges Ahead
Despite all the opportunities in the education and training industry, entrants can expect to face several challenges in the Chinese market, including overcapacity in certain sectors within the near future. This is especially so for the children educations sector, where competition continues to intensify as companies expand rapidly despite falling birth rates. Other issues may include the protection of intellectual property rights, as well as the difficulty of selling soft skills training programs to private Chinese companies, which fail to recognize the value in soft skills due to their intangible nature.
Moreover, foreign companies will have to deal with an unfamiliar and rapidly changing regulatory environment, which can be complicated and especially daunting for the unprepared. In the education and training industry, businesses are generally categorized into core and non-core education services, where institutions issuing degrees fall under the "core" category and those that do not issue degrees fall under the "non-core" category. In particular, providers of core education services are heavily regulated and require long approval processes, while providers of non-core education services may only need to register themselves with the local government and follow national guideline11. While this appears to be simple and straightforward, many businesses may find themselves belonging to neither category. This uncertainty is highly undesirable, as it can drastically affect the timely establishment and operation of the company in China.
Although challenges exist, they can be overcome if well-managed. With an annual growth of more than 20% across some sectors in China's education and training industry, this is a market that should not be neglected; related companies in the industry should consider seizing the opportunities and enter the China market. Furthermore it is advised that entrants consult industry experts or professional consultancy firms to fully understand the specific sector and city they wish to enter.
For more information please email to Katja Friedrich at katja.friedrich@jljgroup.com
Footnotes:
1 Multiple sources, JLJ analysis
2 JLJ analysis
3 Mergers and acquisitions expected to increase the Chinese training market value to RMB 300 billion, 29 Apr 2009, China education news
4 JLJ analysis
5 Increased segmentation in China's education market, 5 Feb 2009, multiple sources, JLJ analysis.
6 Multiple sources, JLJ Analysis
7 Tier-1 cities refer to Shanghai, Beijing and Guangzhou.
8 Tier-2 cities refer to Chongqing, Dalian, Hangzhou, Nanjing, Ningbo, Qingdao, Shenzhen, Suzhou, Tianjin, Wuhan, Xiamen, Xi'an and Zhuhai.
9 The JLJ Group, 2009 Education and Training China Market Report
10 Nanjing service outsourcing increased by 10,000 in the first quarter, 8 May 2009, China MofCom
11 Non-core education programs may be required to operate in form JVs or with local partners
Oct 20, 2009