Commentary
2014 is here and we in the South Island look forward to increased prosperity and positive growth as the rebuild of the Christchurch and its flow on effects gain momentum.
Over the holiday period I had the opportunity to catch up with Matthew Findlay, General Manager, Aeronautical Business Development for Christchurch Airport and we discussed the opportunities and implications that potentially will impact on Christchurch, Canterbury and the wider South Island with of the arrival of carrier China Southern Airlines to Christchurch International Airport and their maiden charter flight on the 3 February 2014.
Matthew has kindly documented his thoughts and observations, so I could share them with the wider NZCTA networks.
Christchurch gateway to Southern experience draws Chinese visitors and opportunities
New Zealand's Southern Alps, majestic lakes and rivers, stunning landscapes and memorable personal experiences are capturing the hearts and minds of thousandsof Chinese visitors each year. And the numbers of visitors are growing at double digit rates. But it's a story of two different markets for New Zealand and our economy.
China is New Zealand's second largest tourism market. Over 230,000 arrivals in the last 12 months, yet currently New Zealand is experiencing a negative growth rate of -16.8% for the four weeks to 18th December. For Christchurch, the contrast couldn't be more different. Last quarter growth arriving into Christchurch from China grew atan average of 36%.
The key difference in this clear national divergence is the introduction of new travel laws implemented in the People's Republic of China from 1 October 2013. Nationally, our arrivals are down, as opaquely-priced "shopping tours" are eliminated as a travel option. Growth however in free and independent travel, business, and those travelling for education or to visit family and friends continues to increase – but not at rates nationally to offset this sudden decline in shopping tours. Other cities in the region have also had declines as illustrated in recent data releases.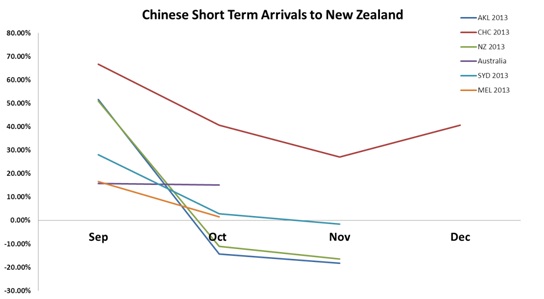 As Christchurch and the South Island benefits from the growing number of higher value visitors arriving, China Southern Airlines will fly the first commercial B787 Dreamliner as a charter from its Guangzhou hub arriving on the 3 February 2014.
The South Island's first charter represents an opportunity to capture the growing volume of higher spending visitors coming to experience what New Zealand has to offer. For the South Island's economy, it represents an opportunity to deliver improved accessibility to global markets when the charter programme is extended in the year ahead and when eventually scheduled services commence.
The growing demand to engage in China and increasing two-way flows in visitors for tourism, education and to transact business will be enhanced by a future scheduled direct air service that will create a game changing outcome for the South Island, which until now remains elusive.
The charter flight and subsequent celebratory lunch banquet on 3 Feb 2014, hosted by Christchurch Airport, will provide the opportunity for a vast number of industry sectors to demonstrate the willingness of the South Island business community to support direct air services, from which many opportunities for both countries will become apparent in the future.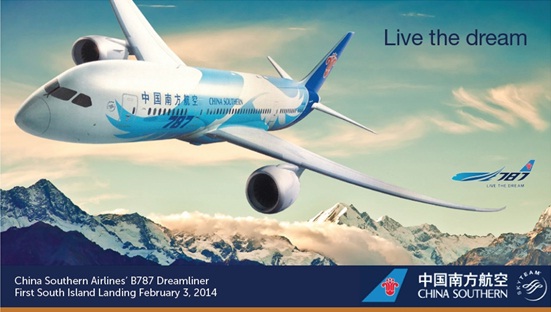 NZCTA Southern networking events will commence in February. I am in the process of organizing a good cross section of speakers to share their knowledge and stories to support the success of others wishing to engage with China whether for import or export.
Jan 27, 2014