Strategy
China's new work permit system for foreigners was rolled out nationwide on April 1 this year. Under the new framework, the previous Alien Employment Permit and the Foreign Expert Permit have been combined into a single work permit, issued to any foreigner eligible to take up work in China.

The changes to the system result in a more streamlined process, doing away with inconsistent regional administration, and allows for employers to submit applications online. Furthermore, the change has removed any confusion foreigners may have had as to which permit to apply for.

The new system has also introduced a three-tier talent grading system for expatriates, the benefits of which are less clear. While A-grade expats enjoy some additional advantages, those falling in Tier B and Tier C may face tougher entry requirements, lower permit validity, and longer waiting times than before.

This article clarifies who is placed where under the new system, and the implications of the classifications. Expats are placed in either Tier A, B, or C by earning the associated amount of points under the point scoring system, or by fulfilling a condition that automatically places them in a given tier.

Point scoring system introduced

The new work permit system introduces a point scoring system to judge candidates' qualifications. Applicants scoring 85 or more points qualify for Tier A; those scoring 60-85 class as Tier B; and those scoring below 60 fall under Tier C.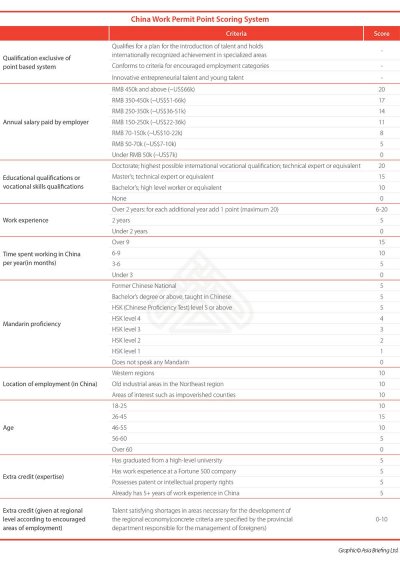 How to qualify for each tier

In addition to the point scoring system, applicants can be placed in a given tier if they meet certain specific conditions.

Tier A
Applicants fall under Tier A if they meet any of the following conditions:
• Score at least 85 points;
• Are employed through one of China's regional plans for the introduction of foreign talent;
• Adhere to internationally recognized standards for their field:
o Awarded for excellence in their field
o Assumed leadership at a well-known academic institution or international organization e.g. the ISO
o Contributed as chief editor or other senior position in a high ranking national journal for science and technology e.g. the JCR
o Occupied a middle-upper management, professorship, or assistant-professorship position at a world renowned academic institution
o Worked in a senior management position or high ranking technical role at a Fortune 500 company
o Worked in a senior management position at one of the world's leading banking or financial institutions
o Prize holders of prominent awards in the arts e.g. Pulitzer prize
o Has held a senior position in government, in an NGO, or in a renowned international organization, e.g. ASEAN, the World Bank etc.
• Are applying for a position in China adhering to one of the criteria listed above, or those to be employed in:
o A senior management or technical position in large scale industry
o A research or engineering center in China
o A high level position at a foreign enterprise in a middle-sized industry, as recognized by the Catalogue for the Guidance of Foreign Investment Industries, an encouraged Chinese industry, or an industry in theCatalogue for Advantaged Foreign Investment in Western and Central regions
o Chairman, legal representative, or chief management/technical heads of foreign investment enterprises in small-sized industries
o Those to be employed in a senior position at a top tier hospital, province level hospital or foreign funded hospital
• Earning over six times the average local salary;
• Are considered entrepreneurial and new industry talent by:
o Offering a new product or service requiring a patent, three years of stable investment, real investment not below US$500,000, as well as a 30 percent stake or above in the enterprise
o Earning three years of annual revenue not below RMB 10 million, or
o Planning to work in a senior management position or as a technical expert in innovative industries that align with the requirements of regional administrative departments
• Are under 40 years of age doing post-doctoral research, and have graduated from a high ranking university or academic institution.

Tier B
Applicants fall under Tier B if they meet any of the following conditions:
• Score 60-84 points;
• Have a bachelor's degree or above, two years of work experience in a relevant field, and are employed in one of the following positions:
o A management, technical, educational, or research position possessing skills particular to: education, science and technology, news, publishing, culture, the arts, hygiene, sports, etc.
o Any position in Sino-foreign collaborative efforts between: governments and international organizations, or in: trade, engineering, technology, etc. allowing for relaxed age restrictions for dispatched personnel of renowned educational or international organizations
o Employees at representative offices in China for an international organization or a specialist organization
o Employees dispatched by international companies, chief representatives, and representatives for foreign industries with representative offices in China
o Managers or technical staff for areas within industry, institutions, or social organizations
• Hold an internationally recognized certification for a skill, or possessing a skill, that is urgently needed in the Chinese labor market;
• Teach a foreign language (their mother tongue) and hold a bachelor's degree or above and two years of experience in teaching; two years of experience is not required for those with a bachelor's degree or above in education or in the language that they are teaching, or another form of internationally recognized teaching certification; or
• Persons earning over four times the average local salary.

Tier C
Applicants fall under Tier C if they meet any of the following conditions:
• Score under 60 points;
• Hold a work permit under the old system, but do not qualify for the A- or B-tier under the new system;
• Are undertaking short term work in China (under 90 days); or
• Positions subject to quotas, such as young talent coming to China for internships.

How your tier affects your work status

Tier A comprises approximately 16 percent of expats in China. Individuals in this category enjoy several benefits not enjoyed by Tier B and Tier C workers, including a "green channel" service. This allows for expedited approval, resulting in processing times shortened by around five working days.
Tier A expats also benefit from paperless verification during the application process. Moreover, they are not subject to requirements of age, education degree, or work experience. In general, individuals qualifying for Tier A enjoy a more inclusive and convenient environment, both before and after the application process.

Around 61 percent of expats fall into the Tier B. A bachelor's degree and two years of work experience in a relevant field should be enough to qualify for Tier B status in most cases, so long as the position is reasonably elevated or technical. However, application procedures are strict and time consuming in comparison to Tier A. Those falling under Tier B must provide all relevant documents in original paper form.

Additionally, Tier B expats are controlled according to labor market demand. They may find it more difficult to obtain a work permit in saturated industries compared to their Tier A counterparts. Work permits may also be issued with shorter validity periods than for individuals falling into Tier A. It is still unclear how strict such controls will be. Whether significant changes will apply should become evident within the year.

Tier C (approximately 22 percent of expats) is meant for individuals not planning to work in China for extended periods of time, such as company representatives placed abroad for a few months. It also accommodates individuals entering the country under Chinese government young talent initiatives (currently only the China-France 1,000 interns program exists).

Tier C applicants can expect permit availability subject to the needs of the labor market and are subject to government quotas, longer processing times, and short validity periods.

Weighing the implications

Most individuals already employed in China with a work permit have no reason to worry. Most of those who qualified under the old system will attain at least Tier B status once applying for a new permit.

For new applicants, most mid-level to senior managers or technical staff should be clear to receive Tier B status or above. Any individual with experience and qualifications in science, technology, engineering, and mathematics (STEM) fields will also likely face no difficulty in this respect. Lack of Mandarin proficiency is of little worry, as this has a negligible effect on tier placement.

Additionally, individuals hoping to work in Central or Western China, or businesses hoping to hire foreigners there, are likely to succeed, due to a governmental drive to develop those regions. Those in mid-level to senior positions in higher education are also treated favorably by the new tier system.

Businesses hoping to employ fresh university graduates into entry-level positions may find themselves frustrated. Opportunities to get around the two year requirement have opened up in some cases, such as inside free trade zones. However, the average graduate with a bachelor's degree will find it hard to work in China without first acquiring at least two years of industry experience abroad.

By Dezan Shira & Associates
Editor: Gidon Gautel

China Briefing is published by Asia Briefing, a subsidiary of Dezan Shira & Associates. We produce material for foreign investors throughout Asia, including ASEAN, India, Indonesia, Russia, the Silk Road, and Vietnam. For editorial matters please contact us here, and for a complimentary subscription to our products, please click here.

Dezan Shira & Associates is a full service practice in China, providing business intelligence, due diligence, legal, tax, IT, HR, payroll, and advisory services throughout the China and Asian region. For assistance with China business issues or investments into China, please contact us at china@dezshira.com or visit us at www.dezshira.com
Aug 6, 2017